Local Knowledge
French Ski Resort Property Guide | Alpine Property Finders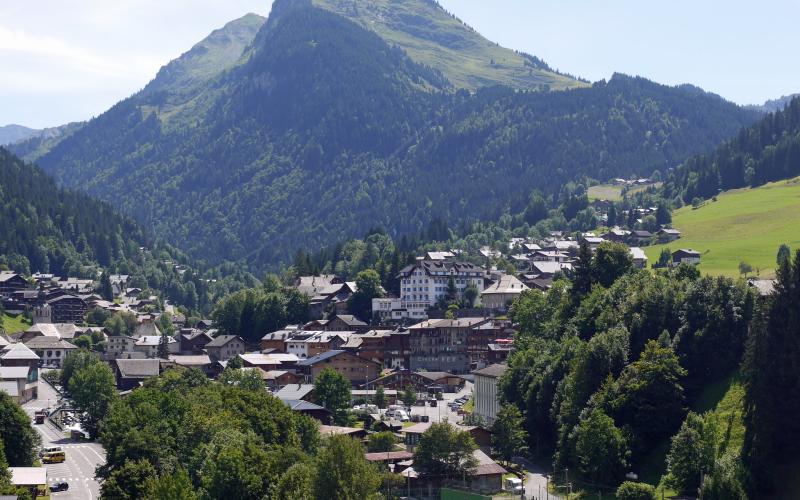 When it comes to buying an Alpine property in a French ski resort, it pays to do your research to understand how much value you can expect from your investment. In our French ski resort property guide we give you a broader picture of the most popular places in the Alps, covering the winter and summer seasons, entertainment and travel options and much more, helping you to make a better informed decision.
Alpe d'Huez
With over 300 days of sunshine a year and 250km of slopes to enjoy, Alpe d'Huez has a lot to offer both new and experienced skiers. The Pic Blanc is the showpiece run (known as the 'champagne run' by locals) and offers a wonderful way to spend 40 minutes of your life. Plus, there are two snow parks – one just above Auris-en-Oisans and a large one in the main bowl. The resort has also been connected to nearby Les Deux Alpes, which gives visitors a total of 475kms of piste to explore.
Thanks to ongoing investment Alpe d'Huez's image has been radically transformed in recent years and a number of surrounding villages are now included in the region, such as Huez-en-Oisans, Vaujany, Auris-en-Oisans and Villard-Reculas. Many older buildings have been given a facelift, roads re-surfaced and underground parking installed, bringing it more in line with modern day expectations. There are lots of bars and restaurants to try, with live comedy and music also available to keep you entertained.
The resort is often called "L'île au soleil" (island of sun) due to its south-facing exposure, which produces some wonderful vistas that look amazing when seen from the many traditional buildings dotted that are dotted around. Property prices are reasonable, and the arrival of new chalet and apartment developments has brought with it some great investment opportunities.
View property for sale in Alpe d'Huez
Chamonix
The range of skiing on offer at Chamonix is unlike any other, with April offering exceptional big glacier runs at high altitude and even in bad weather long runs below the tree line offer good sport. Many other European resorts struggle to contend with high altitude skiing available in Chamonix, with slopes as high as 3,840m and a total ski area size of 155km. Of course, the mighty Mont Blanc – the highest mountain in the Alps at 4,807m – looms large over the local town, creating a unique atmosphere.
It's important to note that Chamonix is a real town with around 9,000 people residents and is not a purpose-built resort. That adds to its charm and authenticity, with many of the buildings hailing from the Belle Epoque and Victorian eras. The valley was the birthplace of the Winter Olympics and covers a host of towns and villages including Les Praz, Les Bois, Vallorcine, Les Favrands and Les Houches.
Chamonix is located just over an hour from Geneva making it ideal for weekend getaways and there's a constant buzz emanating from the many restaurants, shops and cafés in town, with no shortage of things to do. Property is highly sought after and there is vast array of choice on the market, with everything from pied-à-terres and large chalets, to modern resort apartments and secluded bases often made available for sale.
View property for sale in Chamonix
Chatel
Chatel is located in the scenic Dranse Valley and is a village with a long and storied farming history. That continues today with a host of working farms that produce milk for the world famous Abondance cheese. It's also home to the ever-popular Portes du Soleil ski area that covers 650km of linked pistes covering neighbouring villages such as Morzine, Les Gets and Avoriaz, linking a total of 12 ski resorts.
The high, grass-covered slops that characterise Chatel are particularly effective at holding snow, so only a minimal covering is needed to create a useable piste. While it has developed into everything you would expect of a modern ski resort, it still retains much of its original charm, with many of the chalet-style properties maintaining the traditional farming aesthetic.
You can expect a swift transfer from Geneva airport upon landing, as Chatel is located on the Swiss border, which is good news for international travellers. It offers a quieter, slower pace compared to the likes of Morzine or Chamonix, which is ideal for families or anyone looking for something a little off the beaten track. Bars, restaurants and other forms of nightlife are not in short supply, so you can plan a fun, actioned packed day from morning to night.
View property for sale in Chatel
Combloux
Combloux ticks many of the boxes you'd expect of an alpine village, maintaining much of its traditional Savoyard traditions and architecture. It's also where you are likely to find the best views of Mont Blanc in the valley, setting you amongst the mountains and the stunning natural scenery that can be seen for miles around.
The resort is based at the foot of the Les Portes du Mont-Blanc ski area, giving you easy access to 84 ski lifts and more than 188 marked trails. The Evasion Mont Blanc ski area is close at hand which offers a total of 445km of slopes. You'll find everything from black runs to slopes for beginners and there is lots of entertainment available for kids to enjoy too.
This is a year-round resort, open during the winter and summer, so during the warmer months you can venture across the trails, test your fishing skills or mountain bike across the mountains. Le Palais Sports Centre is also only 4km away in Megève, which offers lots of indoor activities to enjoy. In Comboux village there are weekly farmers markets and some great cuisine to enjoy in local restaurants. Geneve airport is about one hour's drive away and Lyon Saint Exupery only two hours by road.
View property for sale in Combloux
Les Carroz
Les Carroz has managed to maintain the traditional look of an alpine village despite its expansion over the years, so it never really feels like a ski resort. It's part of the 4th largest connected resort in Europe (linked to Sixt, Morillon, Samoëns and Flaine) and yet is still able offer quiet pistes and a great getaway from some of the busier sites in other parts of Europe. The ski school comes highly recommended and in general the resort is ideal for beginners who still need to find their feet.
In total, there are 351 runs covering 265km of piste (reaching heights of 2,480m) 32 of which are black for the super advanced. There are various terrain and off-piste snowboarding opportunities supported by gondolas and a snowboard park for anyone who wants to get their tricks off.
When it comes to nightlife there are plenty of bars and restaurants to venture into and Les Carroz holds the 'Famille Plus Montagne' label which means there are fantastic children's facilities on hand. If you or any member of your family is a non-skier you can try your hand at indoor tennis, ice skating, golf, air balloon flights, snowshoe outings and more. Geneva airport is also only about one hour away, making the resort easy to reach after you land.
View property for sale in Les Carroz
Les Gets
What was once a humble, rural farming village has grown through the years to become a must-visit family-orientated ski resort. You'll appreciate that parts of the village, in particular the small central core, still retain the authentic Savoyard feel. It's easy to reach too, located only 80 minutes from Geneva airport.
Les Gets is a wonderful playground for skiers of all abilities, offering 120km of slopes on either side of the village. The resort is connected to one of the largest ski areas in the world, Portes du Soleil, providing 12 linked resorts across Switzerland and France. There's something for everyone here, from beginners to more advanced skiers, including the infamous Swiss Wall – rated one of the toughest runs in the world.
Mountain biking is a popular activity in Les Gets during the summer, with a whole network of interlinked trails across the Portes du Soleil to explore. The resort is part of the "Accueil Velo" initiative, which means bikers have access to everything they need to ride up into the mountains.
There's a strong nightlife scene packed with restaurants and bars and a lively mix of shops spread across the village. Lots of events take place throughout the year to, from lavish Christmas celebrations to holding a stage of the La Grande Odyssée Savoie Mont-Blanc (dog sledging), so there's always something to do on and off the slopes.
View property for sale in Les Gets
Megève
Thanks to its location only one hours drive away from Geneva airport, Megève offers the perfect Alpien getaway. It's been a hotspot for the French jet set for decades and its chic appeal comes from a mixture of designer shops, Michelin-starred restaurants, cobbled medieval streets and stunning views of Mont Blanc
In total there are 445km of pistes spread across the mountains of Rochebrune, Le Jaillet and Mont d'Arbois – which is the main ski area. Beginner slopes sit above the village, with easy progression through to green runs, and red and easy black skiing available for the more advanced. Aside from skiing, visitors can try their hand at ice climbing, ice skating, husky sleighing and more to while away the hours.
During the summer Megève has over 300km of mountain bike and hiking trails to venture across, along with via ferratas, canyoning and paragliding for the more adventurous. The events calendar is packed too, with an international curling tournament every January and a jazz festival in March to name a few. Megève is also great place to go for a memorable fine dining experience, with many offering vintage wine lists and sweeping views of the Alps.
View property for sale in Megève
Méribel
Located in the renowned Les Trois Vallées ski area – the largest in ski resort in the world – the quant village of Méribel has grown to become on of the most popular places to ski in Europe. Visitors are guaranteed exceptional skiing right across the resort, with slopes ranging between 1,300m and 3,230m in altitude and outstanding snowmaking facilities.
Being linked to the Les Trois Vallées ski area means there is an eyewatering 600km of skiing to play with, while at a local level there is still an impressive 150km at your disposal. There are plenty of green and blue runs for beginners to progress through, along with an abundance of red runs and more than 30 black runs that cater to off-piste, advanced skiers.
Visitors can test their abilities in the two main terrain parks for snowboarding and freestyling that caters for people of all skill levels. Element Park is best suited to families and beginners, while Snowpark DC Area 43 is for more extreme freestylers. Méribel offers just as much fun during the summer season too, with everything from mountain biking and hiking to horse riding and climbing all on the menu.
When it comes to eating out there's a fantastic range of restaurants serving up delicious culinary treats. So, whether you're in the mood for a hearty burger or a Savoyard classic cooked at a Michelin star restaurant, you won't have any problem sating your appetite. The architecture in Méribel is dominated by traditional chalets that offer an endless amount of alpine charm, offering a host of prime investment opportunities right throughout the year.
View property for sale in Méribel
Morzine
Morzine is located in Les Portes du Soleil, one of the most extensive ski regions of the Alps. There's an amazing amount of terrain to explore, stretching over 650km across Switzerland and France. The area has a strong farming history that continues today, with the resort nestled between the mountains and trees offering a wide range of apartments, luxury chalets and modern hotels that are populated during the summer and winter holidays.
During the winter, skiers can text their skills on an array of green, blue, red and black pistes that are designed for all skill ranges. There are some great snow parks to enjoy, such as Burton Stash freestyle park and evening entertainment including flaming torchlit descents from the local instructors. Non-skiers can try their hand at tobogganing or ice climbing, as well as tranquil ice diving under Lac Montriond.
When summer blooms in Morzine there is a long list of activities to take part in. Paddleboard across Lac Montriond or go hiking, paraglide, bike into the mountains, enjoy some white-water rafting or try your hand at rock climbing. There's more than enough fun to go around for all age groups, which is why the resort is always full of life throughout the warmer months of the year.
The Women's European Alpine Cup comes to Morzine in January, while the Rock the Piste festival arrives at the end of the season (which is free with a lift pass), two of many events held during the summer and winter seasons. With Geneva just over an hour away, lots of bars and restaurants to enjoy and good selection of traditional and new-build apartments, Morzine offers investors strong, long-term returns thanks to the ongoing demand.
View property for sale in Morzine
Praz-sur-Arly
Offering links to Flumet, Notre Dame de Bellecombe, Crest-Voland and Les Saises, Praz-sur-Arly has an impressive 192 kilometres of slopes on offer, with almost 500 snow cannons that ensure that there is always good snow coverage. This Alpine village is part of the prestigious Espace Diamant ski resort and sits on the boundary of the Haute-Savoie region, always proving to be a popular choice for skiers during the winter and summer seasons.
Thanks to its rich pine forest and spectacular mountain views there is something of a fairy tale feel to Praz sur Arly. Skiing opportunities are plentiful due to around 30-40 days of snowfall, with the summit seeing as much as 10m metres of snow at times. Most of the runs at Espace Diamant are green and blue, which is ideal for beginners getting used to their time spent on the piste.
The summertime is just as active as the winter, with hiking and mountain biking activities taking you across the trails, as well as fishing courses and astronomy weekends where you get to experience the wonders of the clear night sky. Hot air balloon flights are also a big thing in Praz sur Arly, offering the chance to see the Alps from a totally fresh and unique perspective.
The village is located only less than 2 hours from Geneva airport making it an easy resort to reach. There's more than enough bars and restaurants to keep you fed and watered and the chalets and apartments at the north end of the village tend to be where investors receive the best value.
View property for sale in Praz-sur-Arly
St Martin de Belleville
Unlike the nearby Les Menuires, St Martin de Belleville is a village rooted in tradition, with this mini-resort centred around an old church, complete with classic Alpine chalets and wood-and-stone clad buildings. It's as authentic as Alpine villages come yet it still manages to offer an inspiring level of luxury that entices holidaymakers to return year after year.
St Martin de Belleville is situated in Belleville valley and serves as a 'secret' entrance to the Three Valleys, which provides access to an amazing 600km of piste. Beginner runs stand at the foot of the slopes, while the 'Liberty Ride' off-piste section above the resort is dedicated to more experienced skiers. You can easily connect with Meribel and Courchevel, making St Martin de Belleville one of the best-connected resorts in the Three Valleys.
There are over 50 marked trails to explore in the Belleville Valley during the summer, along with a host of tours, hikes and climbing routes. Mountain bikers can also venture across the 321km and 40 trails to their heart's content. Away from all the fun on the mountains, visitors will be spoilt for choice when it comes to eating and drinking out, despite St Martin de Belleville itself being a small village. Geneva airport can be reached in only two hours, ticking another positive box for investors looking for long-term value.
View property for sale in St Martin de Belleville
Val d'Isere
The 300km of slopes available at Val d'Isere peak at the top of the Grande Motte glacier (3,456m), with the world-famous ski resort situated at the end of the Tarentaise valley. Ove the past few decades it has undergone a number of facelifts, including a huge £170 million redevelopment scheme that will be one of the biggest building projects seen in the Alps since the turn of the millennium, with around 900 extra guest beds and 100 new homes being built in prime locations.
Out on the slopes there are several areas to try out – Bellevarde, Solaise, La Daille and Le Fornet. Solaise is ideal for beginners, while Bellevarde is more suited to intermediate skiers as it also features the Men's Downhill run build for the 1992 Winter Olympics. Petrolheads can try their luck on the 800m ice driving circuit, while there is also an ice karting circuit next door more suited to family and friends who want a little competitive fun.
Val d'Isere is always busy during the summer season, offering all the usual fun activities you'd expect. On the water there's canyoning, hydro-speeding and rafting, while on the trails you can hike and mountain bike, while rock climbing and summer skiing offer more outing options. There are lots of bars and restaurants to keep you entertained in the evening and investors are always keeping a keen eye on the local market to snap up any of the rare opportunities that arise.