Local Knowledge
Swiss Ski Resort Property Guide | UK's Top Ski Property Specialist
Swiss Resort Property Guide
Our chosen Swiss resort to purchase a property will be dependent on many factors such as the proximity to transport, offseason activity, budget and the quality of the slopes themselves. Prices vary depending on the canton and popularity of the resort. Here is a guide to the wide range of ski resorts in Switzerland where you may considering purchasing a property.
Swiss Ski Property Guide (Low-High)
| | | | | | |
| --- | --- | --- | --- | --- | --- |
| Swiss Ski Resort Property Prices* | CFH 1 Bed | CFH 2 Bed | CFH 3 Bed | CHF Chalet / Penthouse | Average CHF / m2 |
| Zinal Property Prices | 400,000 - 600,000 | 600,000 - 850,000 | 900,000 + | 1,000,000 + | 8,000 |
| Les Collons / Les Masses Property Prices | 500,000 - 600,000 | 600,000 - 750,000 | 900,000 + | 1,100,000 + | 8,000 |
| Grimentz Property Prices | 600,000 - 700,000 | 800,000 - 950,000 | 1,200,000 + | 1,600,000 + | 10,000 |
| Nendaz Property Prices | 600,000 - 700,000 | 800,000 - 950,000 | 1,200,000 + | 1,600,000 + | 10,000 |
| La Tzoumaz Property Prices | 600,000 - 700,000 | 800,000 - 950,000 | 1,200,000 + | 1,600,000 + | 10,000 |
| Veysonnaz Property Prices | 700,000 - 800,000 | 900,000 - 950,000 | 1,300,000 + | 1,600,000 + | 11,000 |
| Champery Property Prices | 700,000 - 800,000 | 900,000 - 950,000 | 1,300,000 + | 1,600,000 + | 11,000 |
| Saas Fee Property Prices | 800,000 - 900,000 | 900,000 - 1,000,000 | 1,400,000 + | 1,800,000 + | 12,000 |
| Crans-Montana Property Prices | 850,000 - 950,000 | 1,000,000 - 1,200,000 | 1,400,000 + | 2,000,000 + | 14,000 |
| Verbier Property Prices | 800,000 - 900,000 | 1,200,000 - 1,400,000 | 1,500,000 + | 3,000,000 + | 20,000 |
| | | | | | |
*Prices based on Alpine Property Finders internal research 2022
Arosa
Arosa is located in the German speaking part of Switzerland, 100 miles south east of Zurich and at an altitude of 1,739m. This traditional, all-year round resort – open for business since 1877 at the top the Schanfigg Valley – is popular with families and the more experienced skiers. Arosa is a delightful village set around Lake Obersee with hotel, apartments and chalets nestling in the hillside among the pine trees.
Looking at property prices, for example, new flats at Arosa Haus Ratia, three low-level buildings in the village centre, start from £675,000 for one to four bedrooms. These comfortable, well-built homes have openplan layouts and sleek white kitchens
Bernese Oberland
The Bernese Oberland refers to the mountains in southern Bern with the iconic Jungfrau summits – Eiger, Monch and Jungfrau – as its centrepiece. This triumvirate make up what is arguably the most impressive skiing in the region with a plethora of resorts serving skiers, boarders and sightseers in equal measure. In the Bern canton the total purchase costs amount to around 3% of the purchase price including government purchase tax notary fees, and land registration fees.
Champery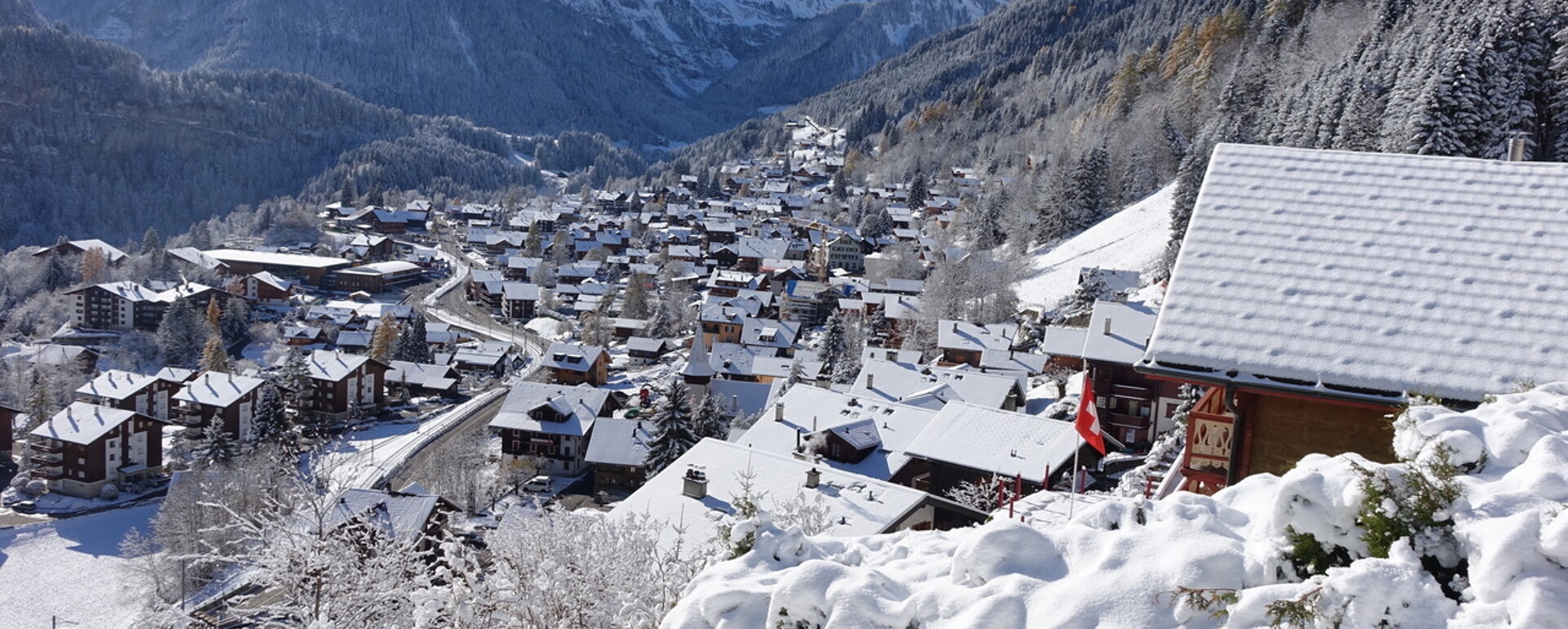 This picturesque Swiss village lies within the huge Portes du Soleil series of linked ski and mountain bike resorts. Among the 12 resorts that can be easily accessed from Champery are some of the best known in the Alps.
Portes du Soleil spans across the FrancoSwiss border and contains a total of 650 km of piste. The chairlifts remain open in the summer in order to give access to paths that can be explored on foot, by bicycle or on horseback.
The village itself is built around a traditional main street that is lined with wooden chalets. The main street is home to a variety of shops, bars and restaurants, with the latter category having developed a reputation for excellence.
View property for sale in Champery
Crans-Montana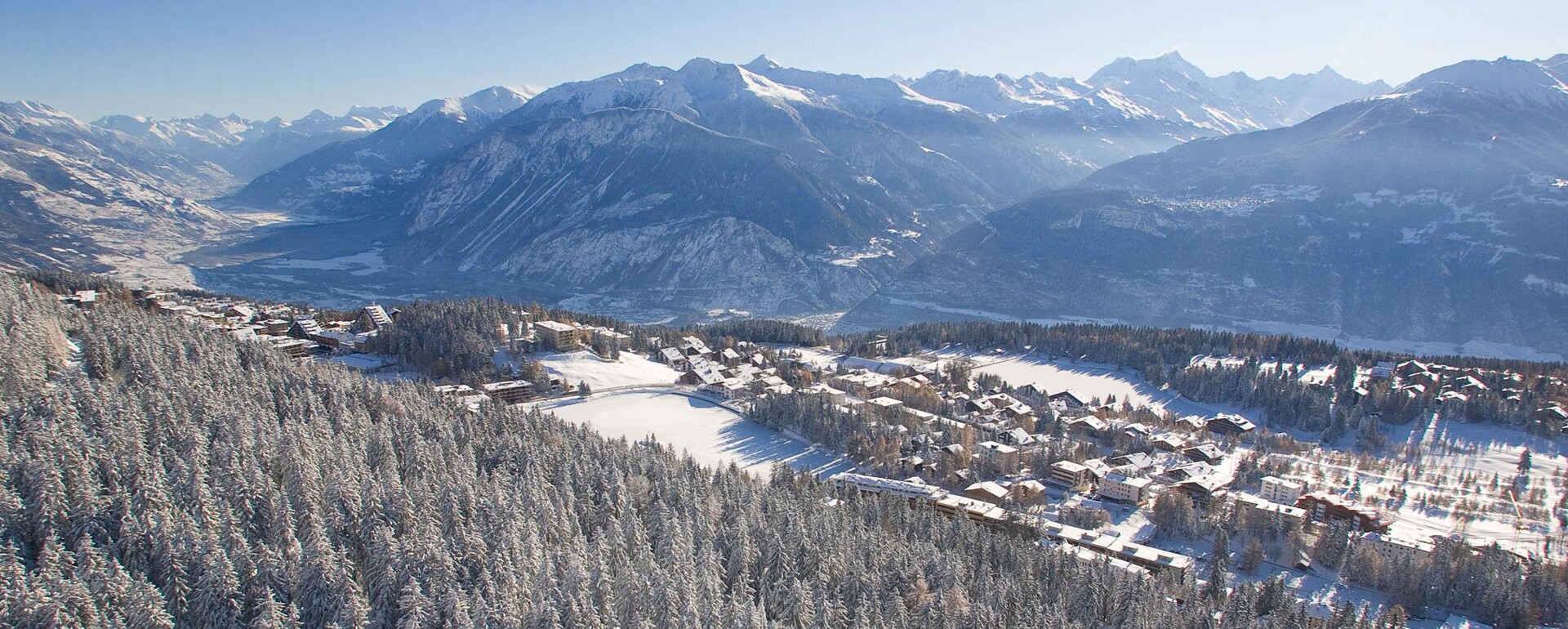 Crans-Montana is an up market resort with wonderful views ranging from the Matterhorn to Mont Blanc. It is also the sunniest ski resort in Switzerland, so benefits from visitors all-year round coming to enjoy 140km of skiing, over 150 shops and 70 restaurants, an 18-hole golf course and numerous popular events. The well-groomed pistes offer a wide range of other snowsports including cross-country skiing, ski touring, snowshoeing, ice-skating and curling. Many of the visitors are property owners who enjoy walking the many paths, relaxing in the mountains amid stunning scenery and heading to the cinema and casino once the sun has gone down. Property in Crans-Montana ranges from CHF15,000 to CHF20,000 per square metre. For resale, apartments start at around CHF1.3m for two to three bedrooms and from about CHF1.5m for a new one-bedroom apartment. For a ski-in-ski-out three-bedroom property the entry level is closer to CHF3m.
View property for sale in Crans-Montana
Davos
Davos is one of the world's oldest ski resorts with its first downhill ski trips dating back some 120 years. Today's Davos is highly diverse with health and spa facilities dotted around what is the highest city in Europe, in addition to a large natural icerink and the impressive slopes that are shared with the neighbouring village of Klosters. The 350km (220 miles) of piste are highly regarded by skiers and boarders alike.
The prices per square metre for freehold apartments in Davos currently range from CHF11,000 to CHF20,000 for homes in very good locations. Apartments with two to four bedrooms and located close to the slopes are priced at between CHF850,000 and CHF1.5million.
Grimentz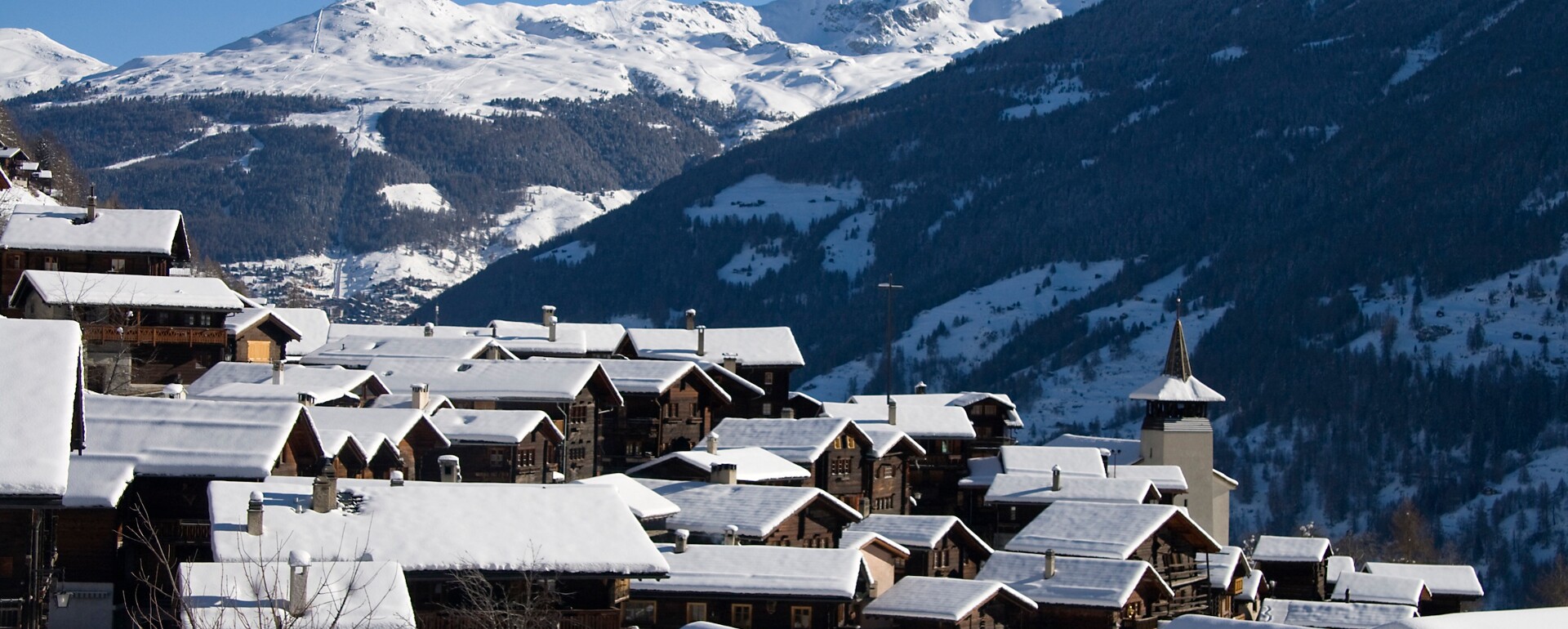 An historic 15th century village located in the picturesque Val D'Anniviers, Grimentz benefits from property prices that can be up to 50% less than those in the nearby Four Valleys ski area. At the same time, there is now a cable car linking the resort to Zinal, which effectively doubles the length of the pistes available to residents to 220 km.
Compared with better known resorts like the Four Valleys, Grimentz is a pleasantly quiet destination. The local pistes are family friendly and fresh powder is available for days after each snowfall, a feature that makes the resort unique in the Alps.
View property for sale in Grimentz
Grindelwald
This picturesque village conveys the archetypal, idyllic setting normally seen in fairy tales. The imposing Eiger, Monch and Jungfrau summits are truly magnificent, while the quaint railways and rustic ambience add to the charm factor. The three peaks are hugely attractive to both skiers and mountaineers, however non-climbers have great access through a train which tunnels deep into the heart of the Eiger before opening out at the edge of the Aletsch glacier – the biggest in the Alps and the source of the river Rhone. With Europe's longest gondola thrown into the mix, along with extensive and varied skiing on sunny south facing slopes, Grindelwald is a must-see.
Interlaken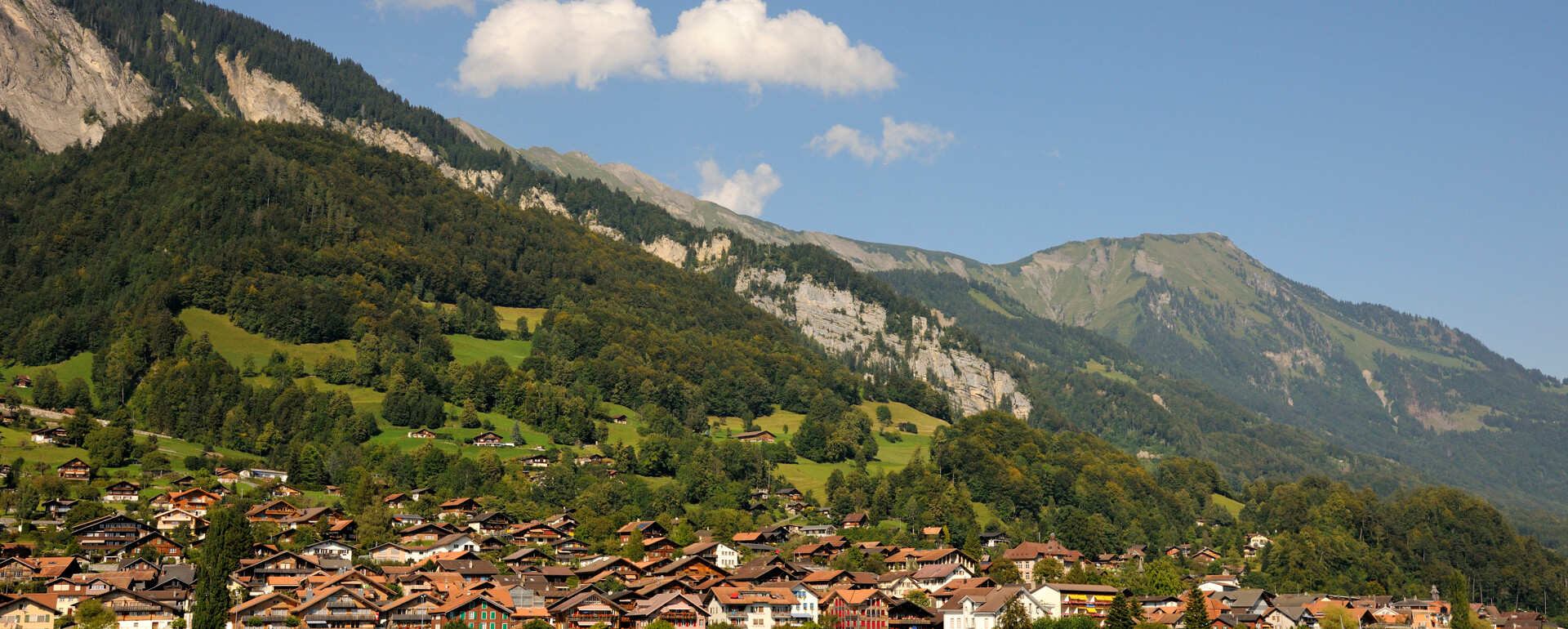 This resort is busy throughout the year. In the summer months skiing is replaced by water sports on Lake Thun and Lake Brienz. Interlaken also plays host to a range of cultural activities including classical music festivals and rock concerts.
Views from the resort take in the spectacular Eiger, Monch and Jungfrau mountains. The pistes surrounding Interlaken range from some of the most challenging in the Alps to gentle slopes for beginners. Many of the pistes are equipped with snow machines that ensure good skiing is available regardless of the level of snowfall.
View property for sale in Interlaken
Laax
Laax is great for beginners and families and offers much more than just skiing. With four snowparks, an indoor freestyle hall and a plethora of pistes for all abilities, there's enough to get the heart racing, plus the 19 mountain restaurants and 8 bars means there is plenty of opportunity to wind down. There are also family-friendly activities, most notably the Snow Wonderland, along with a crèche and award-winning accommodation.
La Tzoumaz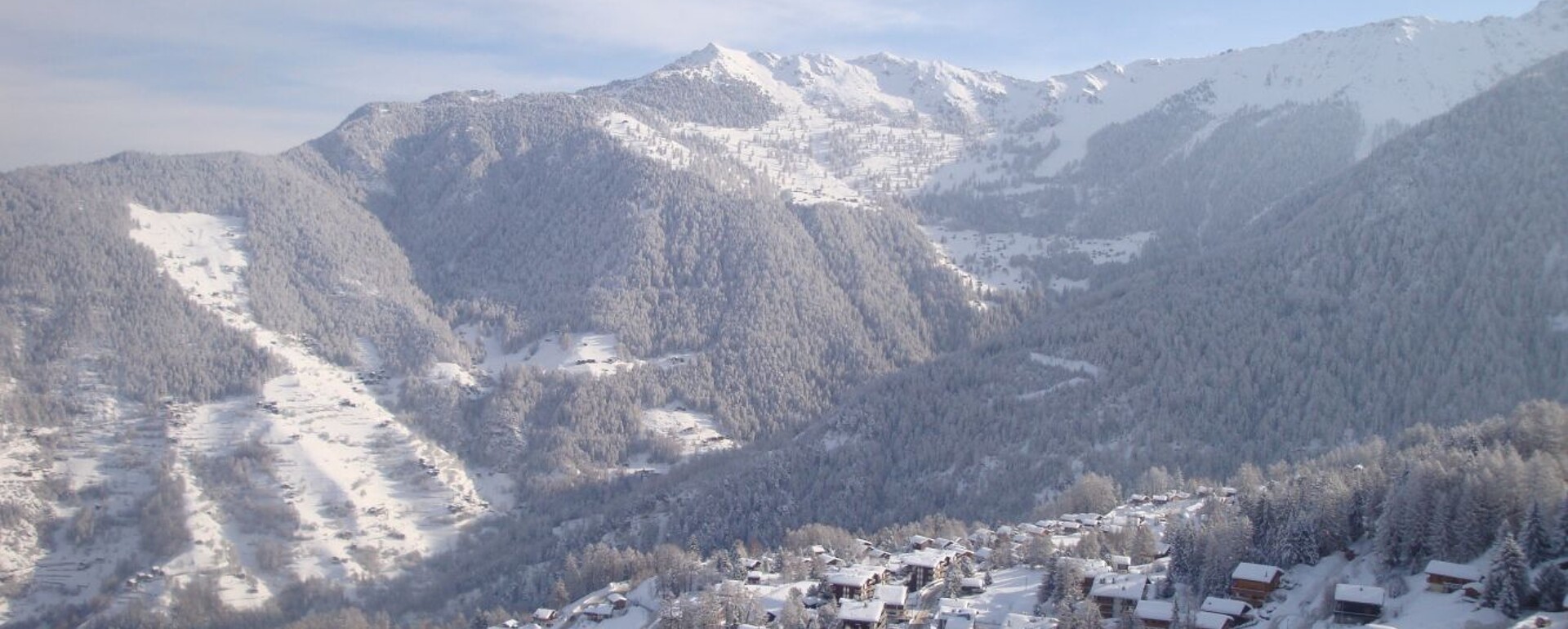 With the fashionable resort of Verbier only a gondola ride away, La Tzoumaz offers value for money entry into the popular Four Valleys region of Switzerland. Property prices in La Tzoumaz can be a third less than those in Verbier. The resort is under two hours from Geneva airport, which makes it a convenient destination for a weekend skiing trip.
The Four Valleys have more than 400 km of piste, which makes it the largest ski area in Switzerland. From Verbier it is possible to reach every other part of the Four Valleys. Buying a property in La Tzoumaz is a reasonably priced passport to some of the most diverse skiing in Europe.
View property for sale in La Tzoumaz
Nendaz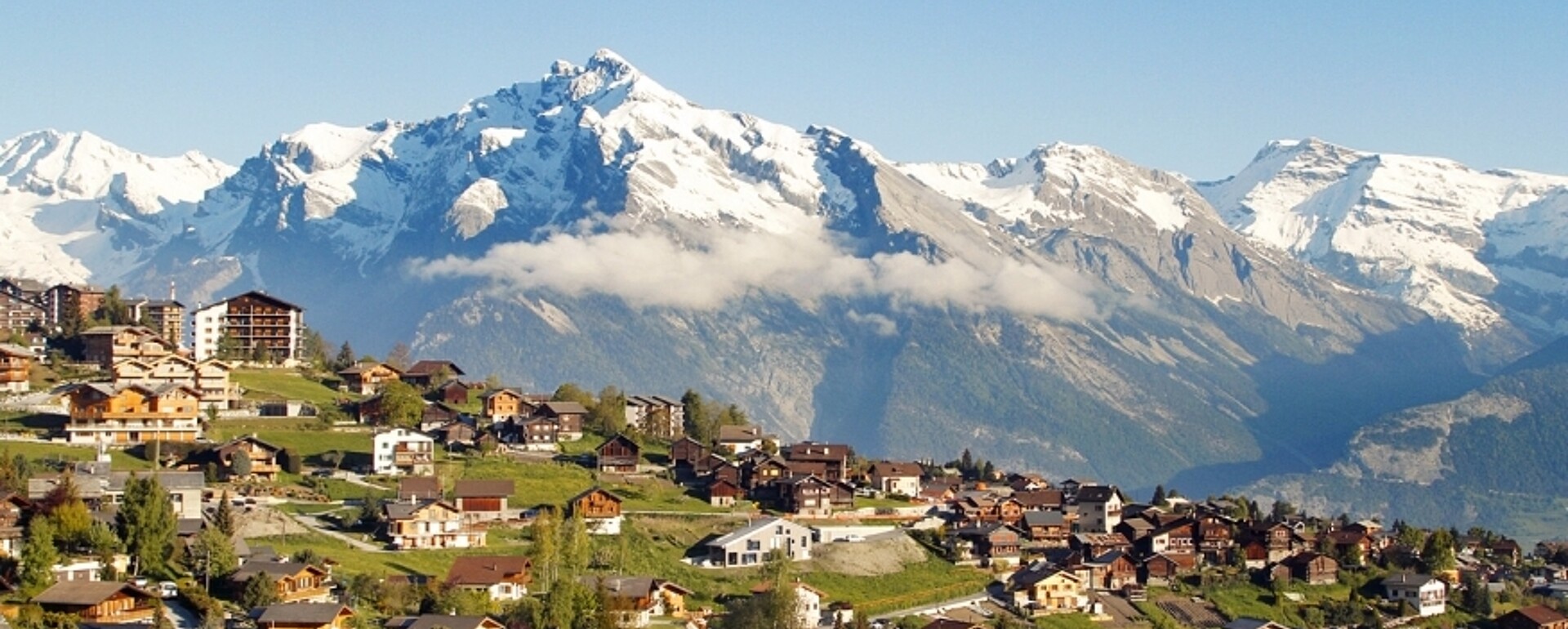 Close to Verbier, Nendaz caters for skiers and boarders of all ages and abilities and offers easy access to the 4 Valleys ski area at reasonable prices. Nendaz has a cluster of wide slopes to cruise down, packed with snow despite the low altitude of 1,400m. There are excellent off-piste options and access to some tricky bumpy itinerary runs. There's also a good après ski in town, plus a fine choice of restaurants at prices that won't break the bank.
View property for sale in Nendaz
Ovronnaz
The views out over the Rhone Valley from this resort are nothing short of spectacular. These are enhanced by the microclimate in the area which helps to ensure that Ovronnaz experiences more than its fair share of sunny days and plenty of snow.
The slopes around Ovronnaz offer a great range of skiing experiences for people of all abilities. In the summer months these same slopes become a beautiful backdrop for hiking trips. The thermal spas in the area help to make Ovronnaz an ideal choice for people who like to relax after a day spent skiing.
Saas-Fee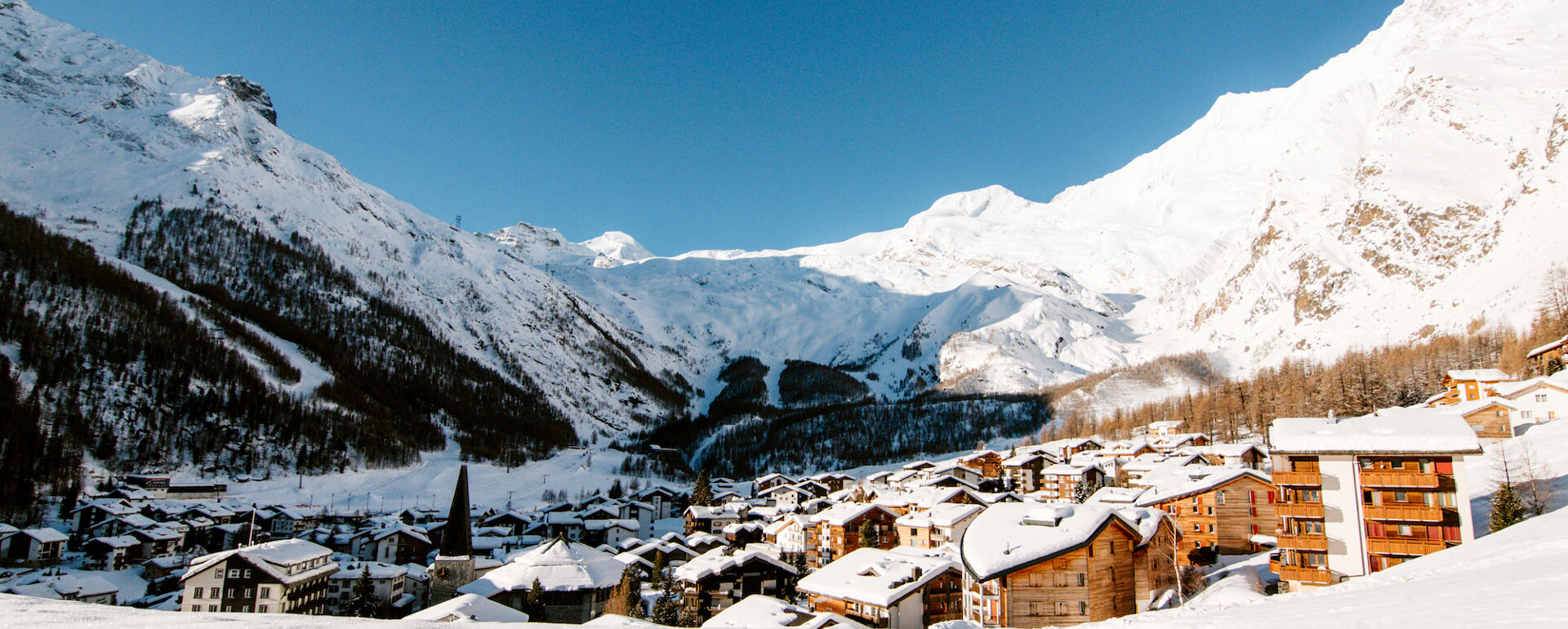 High, snow-sure and largely untouched by the modern world, Saas-Fee nestles in the lee of the Mischabel range, north east of Zermatt. The quaint, old village is free from traffic, barring a few service vehicles. The surrounding mountains tower above the village, making for a stunning spectacle whether you're a skier or sightseer. SaasFee is one of Switzerland's more family friendly ski resorts with an abundance of flat slopes for beginners and children. The piste skiing is extensive with exemplary snow conditions, while off-piste there are endless routes to explore and peaks to scale. Winter holidaymakers have plenty of other activities at their disposal including walking paths, sledging and high altitude fondue. For those on a more limited budget, average prime property prices in Saas-Fee are currently between CHF4,500 and CHF6,500 per square metre.
View property for sale in Saas Fee
St Moritz
St Moritz is one of the world's most famous ski resorts and has played host to kings, presidents, movie stars and, of course, the Olympic Games. As you can imagine, the resort has a wealth of 5-star hotels and private clubs, however St Moritz – twinned with Aspen in the USA – doesn't just cater for the rich and famous. Despite the Engadin ski domain laying claim to having one of the most expensive lift tickets in Europe, affordable dining and lodging is there for those who look hard enough.
Holiday homes in St Moritz are currently selling for around CHF16,500 per square metre.
Verbier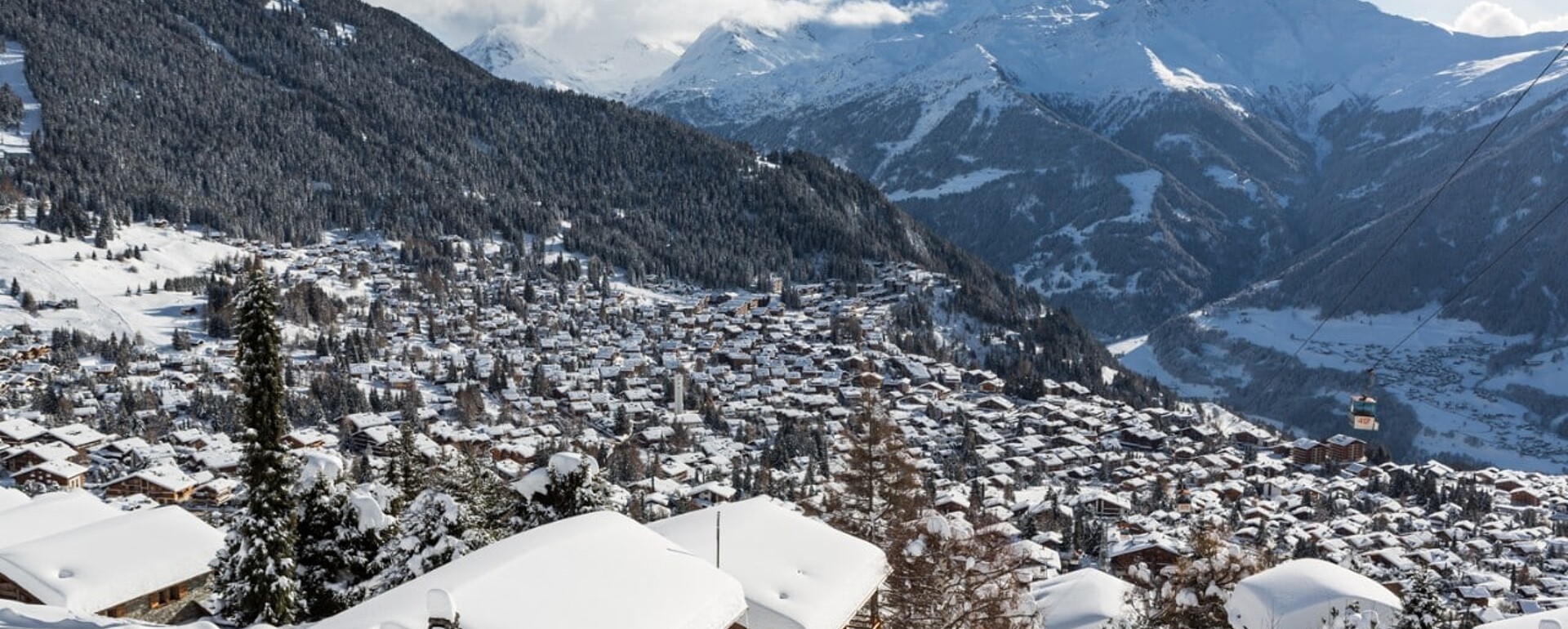 Verbier is a resort on a grand scale, with its impressive skiing, chalets and nightlife. The iconic wooden chalets sit in a sunkissed meadow high up a mountainside, yet despite the natural feel the village was purpose built in 1925. Verbier's four Vallees ski area is the largest lift-linked ski domain in Switzerland, covering beginner, intermediate and advanced runs. The entire resort is served by close to 100 ski lifts linking the resorts of Verbier, La Tzoumaz, Bruson, Nendaz, Veysonnaz and Thyon. There are also over a dozen ski schools and around 20 mountain restaurants.
View property for sale in Verbier
Villars
Villars sits on a sunny south-facing plateau above the Rhone valley. More a town than a village, in addition to the skiing it also boasts excellent shopping, hotels, restaurants and bars. Many Brits have bought chalets in the region, plus the few international schools keep the slopes young and full of energy. Ideally located for weekend breaks, Villars is an 80-minute drive from Geneva Airport, most of which is on the autoroute. It is also easily reachable by train in just over two hours – the preferable method by many given the compact nature of the resort making cars unnessecary.
Villars offers plenty of scope for property investment, from the quiet village of Chesieres through to the centre of Villars or the open fields of Arveyes. The forested Domaine de la Residence is one of the resort's most sought-after locations while those wanting to be within walking distance of the resort's centre have a choice of apartments as well as a few, sought-after chalets.
Wengen
Popular with returning British skiers, Wengen is a pretty Swiss mountain resort nestled at the foot of the Jungfrau. Wengen has some of the best views in the Alps and is ideal for families and intermediates. Its ski area connects to the neighbouring Grindelwald and is set against the breath-taking backdrop of the Eiger, Monch and Jungfrau summits. The skiing is fairly sedate so perfect for families and skiers who want to enjoy a typical Swiss winter holiday without the risk of a heavy fall.
At present, most Wengen properties sell for between CHF8,000 and CHF12,000 per square metre.
Zermatt
Zermatt offers scenic skiing at its very best with stunning vistas of mountains at every turn. The highest report in Europe will grab you from the moment you first wind your way up to its summit, through the charming town and with the Matterhorn skyline as your backdrop. The adjacent glacier enables allyear round skiing and is virtually guaranteed to be packed full of powder whenever you choose to stay. Winter hiking also features, while the lively town offers numerous gourmet restaurants, après-ski and a welcoming atmosphere.
Zinal
Among people who know of its existence, Zinal is an extremely popular resort. Fortunately, the village is not that well known outside of Switzerland, which helps to ensure that this spectacular Swiss location comes with an unexpectedly reasonable price tag.
During the summer, Zinal provides easy access to around 150 km of mountain biking routes. In the winter, with snow on the ground, this becomes 220 km of pistes. A cable car now links this resort to Grimentz, which offers a whole new range of skiing options.