Local Knowledge
Alpine News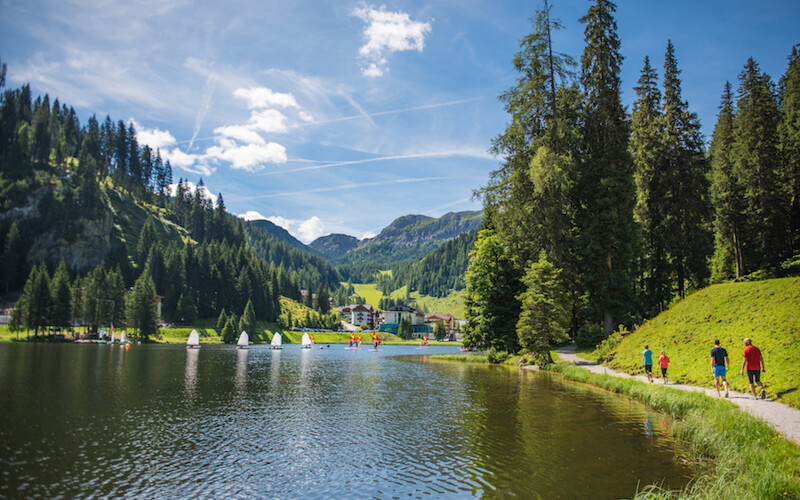 Altenmarkt-Zauchensee – A Property Investor's Guide
5 September 2018
Located 65km south of Salzburg, Altenmarkt-Zauchensee in the Austrian county Pongau charms visitors. While Altenmarkt is a modern market town, with a population of around four thousand, the resort of Zauchensee is nestled in the mountains 10km to the south.
More than snow – something for everyone
Part of the area's great appeal lies in its attraction as a year-round holiday destination – against the stunning backdrop of a breath-taking mountain landscape.
The obvious pastimes are skiing in winter and hiking in summer, but there are also gentle alpine meadows as well as thrilling snowy peaks.
Golf at an 18-hole course, tennis, cycling and mountain biking are also all on offer locally.
A ski destination
But when the snow converts it into a winter wonderland, if you do want to ski, Altenmarkt-Zauchensee is at the heart of the massive Ski Amadé area which includes Radstadt and Flachawinkl.
It's Austria's biggest ski network, at the heart of which lies the Salzburger Sportwelt.
Over 750km of pristine pistes and no fewer than 270 lifts are accessible via a single lift pass. There's something here for experienced skiers and snowboarders, as well as complete beginners.
Meanwhile, walkers are catered for with well-marked footpaths – there are more than 20 trails in all, including walks for families with pushchairs, novices and long-distance hikers.
Swimmers will find a number of lakeside bathing pools in the area, and the Therme Amadé offers various spas and pools.
Meanwhile, all that Salzburg has to offer can be enjoyed on a day trip, accessible within an hour thanks to the speedy motorway links, while the area also has a few museums worth visiting.
So the sheer variety of activities on offer keeps visitors coming back year after year, all year round – and there's always something new to do.
Why buy in Altenmarkt?
This year-round appeal makes the area highly attractive as a property destination, since your property need never be empty.
As a ski destination, the area is sought-after thanks to its altitude and central location at the heart of the piste network, meaning you will always find takers wanting to rent a property during the season. The area is also popular thanks to the range of shops, restaurants and the like on every resident's doorstep.
Austrian building regulations mean high-quality materials are used in property construction, while the law also allows the letting out of homes to tourists.
Local homes don't come on the market often, making properties here a sought-after investment. If you see a place you like, grab it!
Property types available locally
Property in Altenmarkt-Zauchensee is highly sought-after and comes up rarely, but the types of places on offer range from studios and apartments to chalets and large buildings able to house bigger groups. Most local property is quite modern, although there are some more traditional-looking chalets too.
Decide whether you want to be in the centre of town or on the outskirts, or perhaps by a lake or somewhere with the best mountain views – this part of the world has it all.