In The Press
The Evening Standard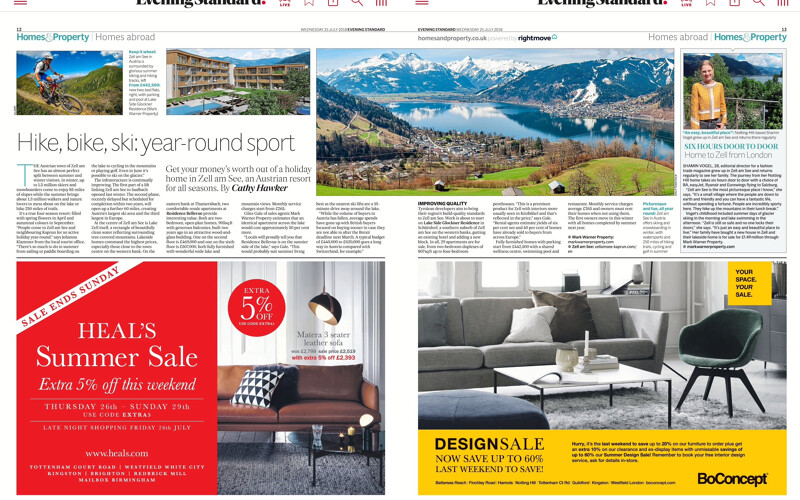 Hike, bike, ski: Austrian holiday homes for all seasons in this year-round sporty resort
Get your money's worth out of a holiday home in Zell am See, an Austrian resort for all seasons.
25 July 2018
The Austrian town of Zell am See has an almost perfect split between summer and winter visitors.
In winter, up to 1.5 million skiers and snowboarders come to enjoy 85 miles of slopes while the summer brings about 1.3 million walkers and nature lovers to mess about on the lake or hike 250 miles of trails.
It's a true four-season resort: filled with spring flowers in April and autumnal colours in September.
"People come to Zell am See and neighbouring Kaprun for an active holiday year-round," says Johanna Klammer from the local tourist office.
"There's so much to do in summer from sailing or paddle boarding on the lake to cycling in the mountains or playing golf. Even in June it's possible to ski on the glacier."
The infrastructure is continually improving.
The first part of a lift linking Zell am See to Saalbach opened last winter. The second phase, recently delayed but scheduled for completion within two years, will open up a further 60 miles, creating Austria's largest ski area and the third largest in Europe.
At the centre of Zell am See is Lake Zell itself, a rectangle of beautifully clean water reflecting surrounding tree-covered mountains.
Lakeside homes command the highest prices, especially those close to the town centre on the western bank.
On the eastern bank at Thumersbach, two comfortable resale apartments at Residence Bellevue provide interesting value.
Both are two-bedroom, open-plan homes, 905sq ft with generous balconies, built two years ago in an attractive wood-and-glass building.
One on the second floor is £469,000 and one on the sixth floor is £507,000, both fully furnished with wonderful wide lake and mountain views. Monthly service charges start from £265.
Giles Gale of sales agents Mark Warner Property estimates that an identical apartment across the lake would cost approximately 50 per cent more.
"Locals will proudly tell you that Residence Bellevue is on the sunnier side of the lake," says Gale. "This would probably suit summer living best as the nearest ski lifts are a 10-minute drive away around the lake.
"While the volume of buyers in Austria has fallen, average spends have gone up with British buyers focused on buying sooner in case they are not able to after the Brexit deadline next March.
"A typical budget of £440,000 to £620,000 goes a long way in Austria compared with Switzerland, for example."
Improving Quality
Tyrolean developers aim to bring their region's build-quality standards to Zell am See.
Work is about to start on Lake Side Glockner Residence in Schüttdorf, a southern suburb of Zell am See on the western banks, gutting an existing hotel and adding a new block.
In all, 29 apartments are for sale, from two-bedroom duplexes of 807sq ft up to four-bedroom penthouses.
"This is a premium product for Zell with interiors more usually seen in Kitzbühel and that's reflected in the price," says Gale.
"Rental agents estimate yields of six per cent net and 40 per cent of homes have already sold to buyers from across Europe."
Fully furnished homes with parking start from £442,500 with a shared wellness centre, swimming pool and restaurant. Monthly service charges average £265 and owners must rent their homes when not using them.
The first owners move in this winter with all homes completed by summer next year.
Six Hours Door to Door
Shamin Vogel, 28, editorial director for a fashion trade magazine grew up in Zell am See and returns regularly to see her family.
The journey from her Notting Hill home takes six hours door to door with a choice of BA, easyJet, Ryanair and Eurowings flying to Salzburg.
"Zell am See is the most picturesque place I know," she says. "It's a small village where the people are down to earth and friendly and you can have a fantastic life, without spending a fortune. People are incredibly sporty here. They hike up the mountains in their lunch break."
Vogel's childhood included summer days of glacier skiing in the morning and lake swimming in the afternoon.
"Zell is still so safe and no one locks their doors," she says. "It's just an easy and beautiful place to live."
Her family have bought a new house in Zell and their lakeside home is for sale for £1.49 million through Mark Warner Property.
Read the Article