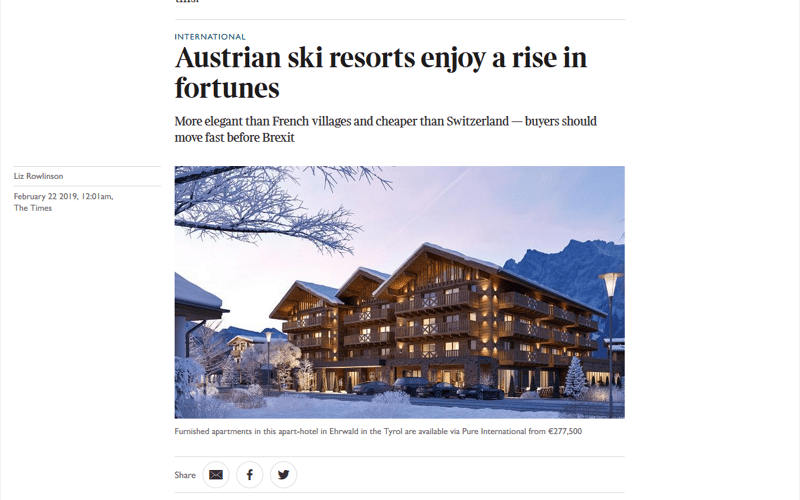 Austrian ski resorts enjoy a rise in fortunes
More elegant than French villages and cheaper than Switzerland — buyers should move fast before Brexit
27 February 2019
It may not have a glittering constellation of A-list-favoured ski resorts full of trophy chalets, but Austria is quietly attracting more skiers at the expense of its Alpine neighbours. According to the 2018 International Report on Snow and Mountain Tourism, skier-visits to France have fallen 2 per cent since the previous season, and Switzerland dipped 1.9 per cent. Many are transferring to Austrian resorts, where there was a 4.4 per cent increase in visits, part of a rising five-year trend.
British buyers have long loved Austrian resorts, but property hunters should not dither with Brexit looming. "We hardly ever see non-EU buyers in Austria as it's a complicated process," says Thomas Joyce, the sales manager of Pure International, an estate agency. "To buy a property [that is not your primary home] you need to purchase via a company, with one of the directors [being] an EU citizen."
If you love the hospitality and jovial après-ski of Austrian ski villages over purpose-built French resorts or eye-wateringly expensive Swiss ones, there's another reason to press on. In many Austrian resorts properties with second-home status (Zweitwohnsitz) are being phased out as part of the tourism policy to get rid of unoccupied properties, known as "cold beds".
"Local councils are instead favouring new homes with buy-to-let status that come with a rental obligation, offering the owner up to six to eight weeks' usage per year," Joyce says. "These tourist residence schemes are very popular with buyers who seek a guaranteed income to cover their mortgage and running costs, but do not suit those who want to use their home for regular weekend ski trips, the flexibility of visits on a whim, or long stays during semi-retirement."
So where can these schemes be found? In the small village of Wald am Arlberg, a 90-minute drive from Innsbruck and 20 minutes from the lively, but more expensive, resorts of St Anton and Lech, there is an attractive collection of traditional chalet buildings which house 58 properties with wellness facilities, a swimming pool and restaurant. Prices start at €278,586 (£244,000) for a 45 sq m one-bedroom apartment, to €563,872 for a three-bedroom chalet through Pure International.
Easy access to the snow-sure Arlberg region was a factor for Simon Masters from southwest London, who bought a three-bedroom apartment there last year. "We love skiing as a family and with two teenage children we have begun to appreciate the mountains as a great summer destination," he says. "The Arlberg has beautiful scenery, [and] great restaurants that are more affordable than in other Alpine areas. With a view to flexible working, and spending long periods out here, the second-home status suited." However, they also rent out the property from €2,590 a week through Arlberg Rentals.
Another option is a two-bedroom apartment sitting on the Tschengla plateau overlooking the border with Liechtenstein in the resort of Bürserberg. Close to Bludenz, the home of Milka chocolate, there are seven properties from €550,000 with Pure International.
Or if you fancy a lakefront property, in the beautiful little village of Zauchensee, near Salzburg — with its lift-pass access to 760km of pistes — there are two and three-bedroom luxury apartments from €513,000 that have second-home status, but can also be rented out through Alpine Property Finders.
"In the Salzburg region a lot of Zweitwohnsitz do not come with a permit to let," says Giles Gale, the founder of Alpine Property Finders. "Buyers cannot generally have the best of both worlds." The agent has a rare resale example of a three-bedroom apartment in the small resort of Hinterthal, in the Hochkönig ski area, for €349,000.
For a new property with a guaranteed return in a well-managed scheme with good shared wellness facilities, there is more choice. In the quaint village of St Lambrecht, in the province of Styria, 22 two and three-bedroom ski-in, ski-out residences are being built by Allea Group in the Grebenzen resort, with prices starting at €380,000.
Or in Schruns in the Montafon valley of the Vorarlberg — a beautiful area that inspired Ernest Hemingway to write The Snows of Kilimanjaro in the 1930s — 30 furnished apartments, due to be finished in 2020, at the Chesa Schirun development come with a 4 per cent net return after three years. Located in a vibrant, historic town, this is traditional Austria at its best, with shuttered houses and onion-domed churches. Prices are from €379,000 with Pure International.
You can also get a ski-in, ski-out studio apartment in the Montafon valley from €159,950, in the small village of Gargellen, at a snow-sure 1,500m. To be completed in December, the scheme should benefit from the €28 million new lift project linking the village to the chocolate-box resort of Klosters across the Swiss border. Among those choosing to ski over to Austria for lunch has been the Prince of Wales.
Read the Article